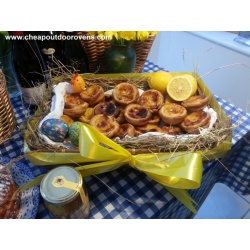 Portuguese Custard Tarts
Pasteis de nata or Portuguese custard Tarts are unbelievably moreish! If you love strong coffee these are the perfect accompaniment as the sweet custard topping with the buttery flaky pastry will cut through the smoky bitterness....this is just as much Portugal as Bacalhau and are a favourite pastry in all the Portuguese speaking countries around the world from Brazil to mainland China! So if you have never tried them and your curiosity has pushed you to make some, don't just make 12, make 24! Believe us, you'll be seriously disappointed when you pop back for a sneaky 2nd and they've all gone.
Pasteis de nata were created by Catholic monks before the 18th century in Lisbon. The convents and monasteries were using large amounts of egg whites in order to starch their clothes such as nuns' habits. This left a glut of egg yolks into which went into making pastries and cakes in the monasteries and convents. This lead to the proliferation of sweet pastry recipes all over Portugal.
Ingredients:
250g golden caster sugar
30g plain flour
20g corn flour
250ml semi skimmed milk
2 lemon slices
2 cinnamon sticks
A few drops vanilla extract
3 egg yolks, plus 1 whole egg
Flour, ground cinnamon and icing sugar for dusting
Butter or oil for oiling
1 roll or 375g of puff pastry
Method:
To make the custard, put the sugar, cinnamon sticks and lemon slices into a saucepan, add the water and bring to the boil. In a bowl or large jug, mix the cornflour, flour and vanilla into a paste with a little of the milk. Bring the remaining milk to the boil then pour steadily into the flour paste whilst whisking continuously.
Pour the whole mixture back into a clean saucepan and bring to a simmer, keep whisking until it thickens. Remove the cinnamon sticks and lemon from the sugar solution and pour into the milk, then the eggs and bring back to a simmer whisking all the while until smooth. Pour into a bowl and cover with cling film to stop a skin forming. Allow to cool.
Preheat your conventional oven to 220/200 C fan (or gas #7) or wait for your outdoor oven to reduce heat to 180-200 C. On a clean work surface, dust with flour and a little icing sugar then roll out the puff pastry. Cut the pastry in half then lay the two halves on top of each other. Roll the pastry up snugly, starting from the longer side, like a Swiss roll. Cut the roll into 12 equal slices.
On the floured surface, roll each disc out until they're approximately 10 cm diameter. Oil and flour a metal muffin tray, then press each pastry disk in to the wells and spoon the custard in to each case.
Bake for 18-­20 mins in the indoor oven and approximately 10­-15 mins in your outdoor oven. Don't forget to turn the trays at least once to make sure each pastel de nata is baked until golden brown. If the custard turns black in small areas, don't worry, it will give them an authentic look.
Mmmmmm....