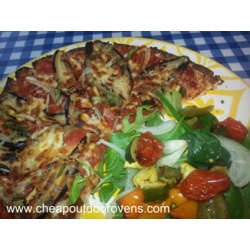 Cauliflower pizza base - 'The' low carbohydrate and gluten free pizza base alternative
Yes you read it correctly a pizza base made predominantly from cauliflower! However do not recoil in disgust, as my brother did, he thinks of cauliflower as vegetable brains. We are a family with mixed tastes from meat lovers, carbohydrate phobics, vegetarians and someone who is a coeliac (severe gluten intolerance) and at family gatherings I hate to dish up the same gluten free and low carb dishes. So I tried a recipe I found and tweaked it to our taste. We were so surprised at the end result and have to say it is so tasty! Obviously not a match to a pizza base made from flour, the base mix actually doesn't taste of cauliflower at all and only smells of cauliflower during the preliminary preparations. There is no waiting for the dough to rise, but until the base has had its first firing it is a little delicate. Once it is combined with all the other ingredients this pizza is a sure winner and a welcome change for dieters, carb avoiders, coeliacs and vegetarians. It is a simple recipe and easy for the kids to bake! We recommend you give it a go.
Ingredients:
The pizza base:
1 cauliflower - aprox. 750g
100g ground almonds
2 beaten - eggs
couple of tbsp mixed herbs
2 tbsp grated parmesan cheese
salt and pepper or chilli flakes for seasoning
The topping:
1 tin chopped tomatoes
1 tbsp tomato purée
3 cloves of crushed/chopped garlic
1 small aubergine
2 tbsp toasted pine nuts
2 handfuls of basil leaves
2 tbsp grated parmesan cheese (If this pizza is intended for vegans or vegetarians, make sure you use vegetarian alternative cheeses)
couple of handfuls grated mozzarella
½ thinly sliced onion
Method::
1. Cut off all green leaves then rinse the cauliflower and leave to dry. Cut up into chunks small enough to fit into food processor. Whiz-up half the cauliflower so as not to over fill the blender. Finely chop the cauliflower so it looks like rice, and then tip into a large microwavable bowl. Then do the same with the other half.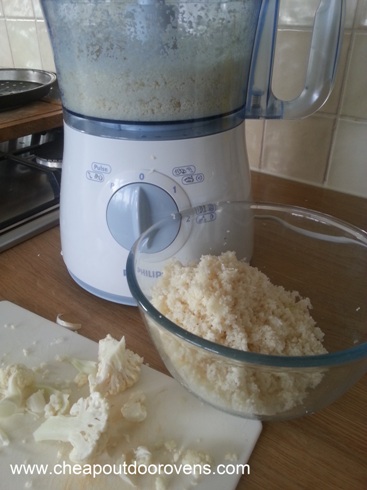 2. Cover the bowl with cling film and pierce a few times. Set the microwave on high and cook for 5-6 mins until soft. Tip out onto a clean tea towel and leave to cool. Be aware of the very hot steam when taking the cling film off. When it's cooled enough to touch, twist up in the tea towel and squeeze as much water out of the cauliflower as you can.
Tip the cauliflower back into a clean dry bowl and mix in the ground almonds, parmesan cheese, mixed herbs, salt, pepper, chilli flakes and lastly the beaten eggs.
3. Cover a metal pizza tray with foil or use a baking tray, then either cut a disc of baking parchment or tear off a sheet and place it on the tray. Lightly oil and then take handfuls or large spoonfuls of the mix and begin to press together on the tray to form a round pizza base. Keep the base approximately 5mm deep whilst making the edges slightly thicker to create the crusty edge.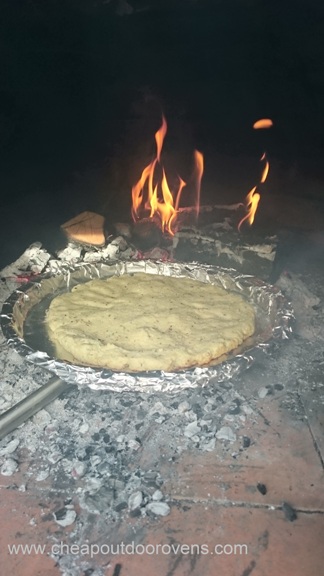 4. Thinly slice your aubergine, you can salt it first to draw out the moisture, but it's not necessary. Oil both sides of the slices and place on another baking sheet, try not to overlap the slices as you want them soft and a little charged.
5. Put the pizza base and the aubergine slices into your outdoor oven at the same time for about 5 mins until the base is golden brown and the slices have softened. The aubergine may not need as long as the base. Keep turning to ensure an even bake. The outdoor oven temperature should be at your usual pizza baking temperature of approximately 300C.
If using a conventional oven heat to 180C fan or gas 6, bake the base for around 15- 18 mins and the aubergine should only take about 5 mins or so.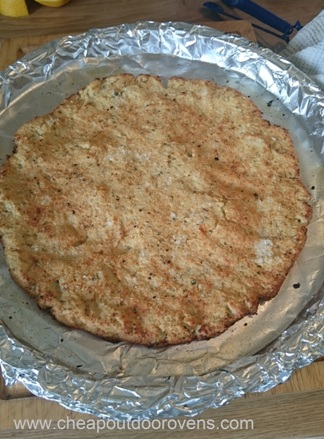 6. For your tomato sauce, make just as you would for a normal pizza, but simmer it for longer to reduce the sauce. So tip your tinned tomatoes, tomato purée, crushed garlic, olive oil, seasoning and herbs into a saucepan and gently simmer, keep stirring to help evaporate the liquid. A drier sauce is needed to ensure you don't have a soggy bottom to your base.
The tip to dressing this cauliflower pizza base is to keep all your toppings on the dry side. So swapping the ingredients to what you prefer won't be a problem...aubergine is an acquired taste.
7. When your base has cooled spoon on the sauce, sprinkle on the sliced onion, place your aubergine slices with artistic flare, tear, rip or place your cheese on top then toss the toasted pine nuts evenly all over and don't forget to plant the sprigs of fresh basil like emerald jewels. Finally the grated cheese covers the whole cornucopia like a veil de fromage! Now stand back and admire your creation before you place it in your outdoor oven for it's final encore. (Basically chuck it all on top of your base and cook!)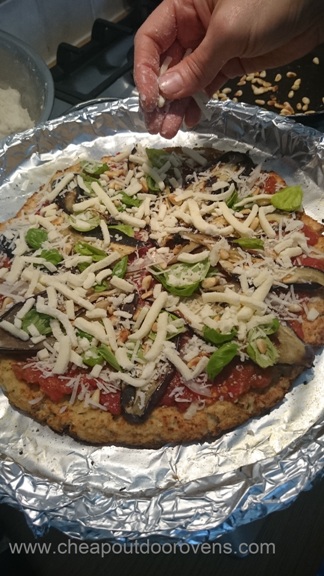 As you may have guessed by now, here at Cheap Outdoor Ovens, we don't take ingredients and particularly methods too seriously and encourage you to change or experiment with all our recipes. We would love to hear back from our customers to see how your efforts went. Please feel free to share your recipes with us. We will place them on our Facebook page or on our website and dedicate it to you... so let's see what's cooking in your oven!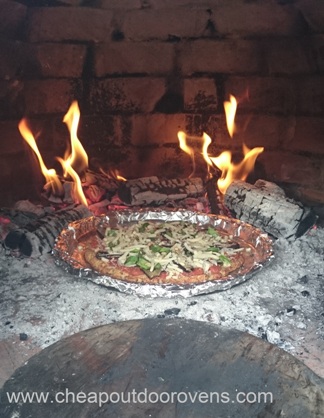 Bom proveito!