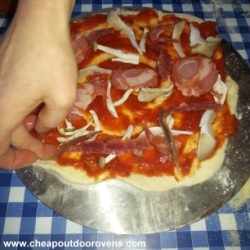 Italian Style Pizza Dough (6 x 20cm/8" pizzas)

We're assuming, as you have decided to reach out into your garden to cook, because your kitchen just doesn't cut it anymore, you love food! So you will probably know how to make basic pizza dough by heart but just incase you don't, why not try this no-fuss recipe in the Italian style which uses '00' flour to give the base a lighter, crisper texture.
Ingredients:
650g/1lb 5oz Italian 00 flour, or you can use strong white flour
7g sachet of easy-blend yeast
2 tsp skinny salt (fine salt)
25ml/1fl oz olive oil
50ml/2fl oz warm milk
325ml/11fl oz warm water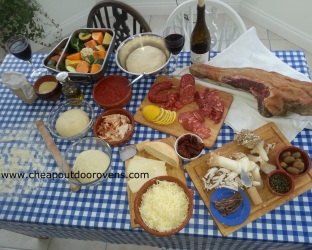 Method:
Combine the flour, salt and yeast together in a large bowl. Stir in the olive oil and milk then gradually add the water. Mix well to form a soft dough.
Turn out your dough on to a floured, clean and dry surface and knead for about 5 minutes, until it turns smooth and elastic.
Oil the inside of a large bowl, and gently place your dough into it. Cover with a damp tea towel and leave to rest and rise for about 1½ hours, until doubled in size.
Once your dough has risen, it's time to "knock it back" (where the excess air is knocked out of the dough before proving). Knead the dough until it feels smooth, then roll it into a ball. Place it back into the bowl, cover with a damp tea towel or cling film then set aside for a further 30 minutes to 1 hour until risen again.
Divide your dough into six balls then roll each one out onto a lightly floured surface to approximately 20cm/8in in diameter.
Now get creative...but try and keep the toppings down to only a few. This is a delicate dough, so less is more.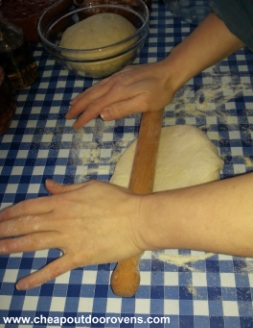 Remember you can freeze pizza dough for next time. Since you have your 'Big Bertha' of an oven, it's probably worth while keeping dough stored. So while you're getting all doughy you way as well make a big batch.